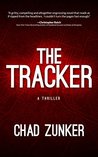 The Tracker by Chad Zunker
My rating: 4 of 5 stars
Power tends to corrupt, and absolute power corrupts absolutely. I had experienced the full measure and ramifications of these words the past three days. And I'd lived to tell about it.
Sam Callahan has a job he was born to do. Track political candidates without being noticed and have the capability to be where they are at any given moment. With a close election between candidates, there is more pressure to get the real story. When a undisclosed text directs Sam to a motel and to be ready, he cannot pass up the opportunity. What he gets is more than he bargained for as he is now running for his life after witnessing a murder. Sam begins to question who he can trust and who was behind the murder. As more people are taken out, Sam becomes the #1 suspect as he now has to find out who is behind this political motivated set up.
The narration is fast paced as you come to know Sam Callahan and the special gifts he has to outrun trouble. Going back to his life as a foster kid, his mother's abandonment, and his life on the streets. How his life turned around meeting a pastor that saw something good in him and gave him the tools to succeed and run from the life that had nothing for him. I have to do a shout out for the author's theology because it was good! I loved the relationship between the pastor and Sam. The gospel compels me. Can't get to the heart without getting to know you first! and the lessons that he taught Sam It's not about being worthy. It's about being grateful. And letting that gratitude help you maximize the new opportunities you're getting. I am grateful
A compelling thriller with heart. Very rare but something I appreciate!
A Special Thank you to Chad Zunker and Netgalley for the ARC and the opportunity to post an honest review.