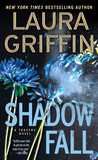 Shadow Fall by Laura Griffin
My rating: 4 of 5 stars
Intense romance and intense thriller all in one. Special Agent Tara Rushing has been called to a horrific murder of an up-coming politician. Agent Rushing a complex character, a loner, a fighter, and a relationship mishap, finds herself attracted to the number 1 suspect Liam Wolfe who is owner/operator of a high end security operation. All roads point to Wolfe's operation, however, Wolfe is adamant that his operation is clean and his people are above approach. When other victims are found, the heat is turned up in finding the killer before he strikes again. The perb's mo is articulate and intentional. Will Rushing and Wolfe's chemistry become a liability or an asset?
Fast paced with a surprise reveal at the end.
A Special Thank You to Pocket Books and Netgalley for the ARC and the opportunity to post an honest review.