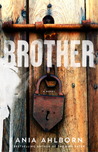 Brother by Ania Ahlborn
My rating: 5 of 5 stars
But he knew he couldn't tell her any of those things, and it made it hard to look her in the eye. Alice was perfect, and he was nothing but secrets. Dark ones. Darker than the basement after all the lights went out.
I think I am ready to get off this roller coaster of terror. However, the most peculiar is that I found myself having empathy for Michael. A tremendous gifted writer that has a way with words where you desperately want things to go well but in reality depravity takes a hold and fear is all too real.
Michael has been told by the Morrow family that he was abandoned and has been lucky enough to be in the fold. This fold is where Dahmer meets Deliverance; however, Michael in his fear of abandonment goes with the flow of his family and the guidance of his brother Rebel. All the while I am screaming Run Michael Run…far far far far away! But in his own way of loyalty he cannot.
Some of the quotes that are telling.
What lay before him was falsehood personified. Rebel had never cared, and Michael had never belonged.
Perhaps killing them was the only way she knew how to quench her anger, how to sequester her pain.
This was not his family. This was not suppose to be his life.
A graphic portrayal of evil with a sadistic twist, it will leave breathless and wary of strangers.
A Special Thank You to Gallery Books and Netgalley for ARC and the opportunity to post an honest review>